Sales Tax Information
Specialty Bottle is required to collect sales tax in the highlighted states on the map below. The tax amount will be shown at checkout after you enter your shipping destination. If your purchase is exempt from sales tax (e.g., purchasing for resale), please see our instructions below for providing us with a properly completed exemption certificate.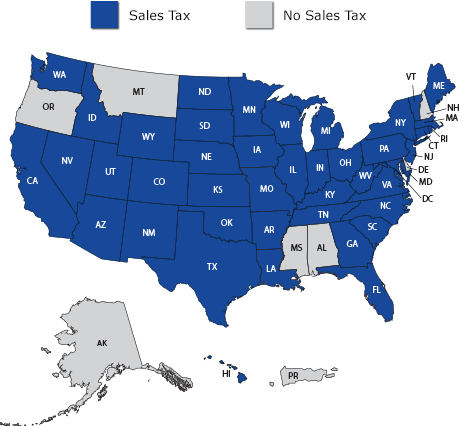 Exemption Certificate Instructions
If your purchases from Specialty Bottle are exempt from sales tax (e.g. purchasing for resale), follow these steps to provide us with a properly completed Exemption Certificate:
SELECT: Select your state from the list below. If your state is not listed, we will not collect tax on your purchase.
COMPLETE: Download and complete the exemption certificate displayed for your state.
SUBMIT: Fax the completed exemption certificate to 206-382-1120 or email the certificate to service@specialtybottle.com.
Select Your State:
Arkansas
Arizona
California
Colorado
Connecticut
District of Columbia
Florida
Georgia
Hawaii
Idaho
Illinois
Indiana
Iowa
Kansas
Kentucky
Louisiana
Maine
Maryland
Massachusetts
Michigan
Minnesota
Missouri
Nebraska
Nevada
New Jersey
New Mexico
New York
North Carolina
North Dakota
Ohio
Oklahoma
Pennsylvania
Rhode Island
South Carolina
South Dakota
Tennessee
Texas
Utah
Vermont
Virginia
Washington
West Virginia
Wisconsin
Wyoming
Multistate
If you submit an online order and are charged sales tax at checkout but you have submitted (or are in the process of submitting) a completed exemption certificate, please contact us for a refund of the tax collected on your online order.
Need Assistance?
Please contact Customer Service if you need additional information or have any questions about sales tax.