European Dropper Bottles
These traditional "Euro" dropper bottles are a useful self-dispensing dropper or "dripper" bottle for essential oils, fragrances, natural remedies, and herbal extracts. The cap comes with the dripper insert attached. When the cap is applied to the bottle, the dripper insert snaps into place over the opening of the bottle. When the bottle is inverted, contents will dispense one drop at a time. The caps themselves have a tamper evident ring which detaches from the cap when opened. These thick glass bottles come in amber, cobalt blue, and green and each color provides UV protection for light sensitive oils and extracts. Click on the color of your choice for pricing and ordering information.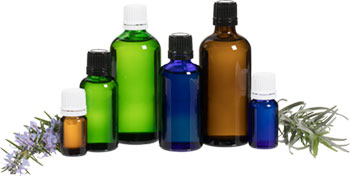 The traditional Euro dropper bottle is constructed from high-quality glass and is available in amber, green and cobalt blue, with each color conferring a unique style while also providing excellent UV protection for any light-sensitive products contained within. Plastic caps are available in both white and black colors. Euro dropper bottles are an ideal self-dispensing option for perfumes, fragrances, aromatherapy, essential oils, tinctures, medicines, natural remedies, herbal extracts and more. Ensure the quality and integrity of your product with the tamper-evident ring included with every bottle's cap, which detaches when opened for the first time. A dripper insert is included inside the cap to provide precise drip control. As the cap is attached the first time, the dripper is firmly inserted into the bottle opening so that when the container is opened and inverted, liquid contents will dispense one drop at a time. Storage capacity ranges from 5 milliliters up to 100 milliliters, offering a variety of sizing solutions for your products. Wholesale pricing and bulk orders with volume discounts provide ample savings.